Plumbing Jobs in Los Angeles
Careers at Lloyd's Plumbing in Los Angeles County
WE ARE HIRING! Are you looking for a stable plumbing job in Los Angeles? Being the largest plumbing and related service provider in all of Ventura and Los Angeles County, Lloyd's Plumbing offers multiple career options for young and determined people of the community to take part and indulge themselves in an honest and enjoyable working environment that we offer here at Lloyd's Plumbing. We provide high-quality plumbing services in Ventura County and Los Angeles County. We have been serving Los Angeles and Ventura County since 1965, and take pride in being Los Angeles's most trusted plumbing company! If you would like to excel in your plumbing career and join our team, we are looking forward to having you.
Current Plumbing Job Openings in Los Angeles
We are now offering the current positions in our plumbing team:
Lead Drain Technician
Install Technician
Plumbing Service Technician
If you are interested in joining our plumbing team in Los Angeles, please fill out the employment application at the end of this page!
Call us today at (805) 495-8766 to learn more about our plumbing job openings in Los Angeles County!
Working For Lloyd's Plumbing
If you are interested in seeking a professional career as a licensed plumber and spread your reach to multiple contracts and opportunities, then look no more other than applying at Lloyd's Plumbing. We can promise you a lucrative, energetic, and entertaining career with lots of flexibility and ease. Working with us could take you a step forward in achieving your career goals and personal ambitions. We are open to any professional assistance regarding plumbing and home service maintenance. We help our customers with installations, repairs, and provide constant support of the various plumbing-related items and tech gadgets.
The plumbing field is an attractive and superb business with a lot of advanced career options and a chance to go exclusive and provide your services to a vast community. Therefore, the benefits and salaries we are offering can be very beneficial for you during the start of your career, and as you continue to stead forward in your job both the payroll as well as the benefits start to increase in number.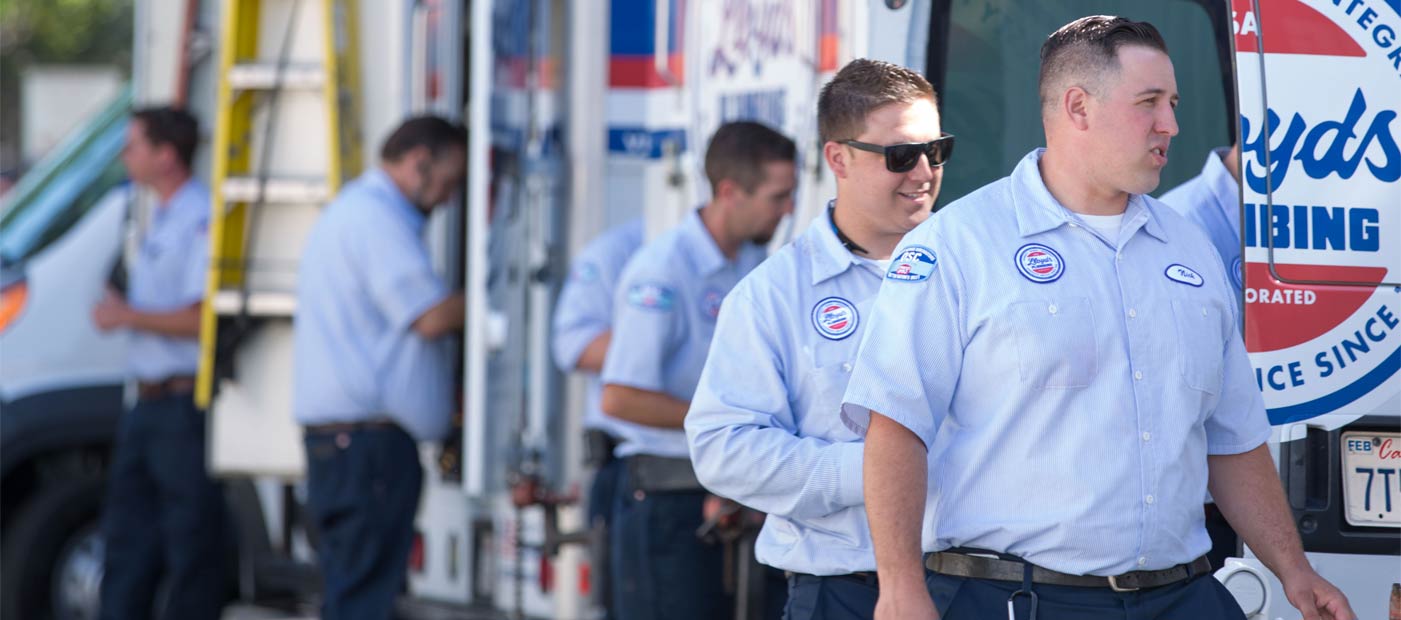 Why Should I Want To Work at Lloyd's Plumbing?
Benefits of working at Lloyd's Plumbing:
Rotating Schedule - We are always looking forward to giving our workers the ultimate relaxation which they deserve that is why rotating schedules will help them take care of work and home life and find a balance as well.
Incredible Benefits - We offer multiple benefits to our employees to name a few they will be health/dental/vision insurance, paid time off, and life insurance along with free uniforms and other various treats as well.
Trusted Services - Many house owners or other commercial customers might not trust a plumber enough to allow them for taking a personal visit to their home for speculating the problem. But that is not the issue with Lloyd's Plumbing because we offer completely trusted and sophisticated services to our customers. We keep it utterly professional and humble at our customer's homes, so they don't have any complaints about our services.
Amazing Coworkers - The workers that work with us very lovely and surprising and due to the fantastic culture you will find them very much friendly.
Fun Meetings - Our meetings are fun, informational, and energetic; we try to update our content to provide fantastic and friendly challenges to the workers as well.
How To Become a Plumber
Are you interested in becoming a plumber and are unsure about where to start? We can give you some tips that will help you in your journey as a professional and licensed plumber.
Attend Plumbing Trade School: The first step to becoming a plumber is to attend plumbing school. This is where you will learn all of the local plumbing codes and regulations, blueprint reading, and the ins and outs of the plumbing world. Plumbing trade school typically takes 2 years to complete and will cover the topics necessary for you to excel in your plumbing career.
Apprentice Training: The next step after completing plumbing trade school would be to become a plumbing apprentice. You could even start as a helper. Although you may still be able to become a plumbing apprentice without attending plumbing trade school, trade school is encouraged. A plumbing apprentice job will pay you while you are technically still learning while doing the job. They usually last for 4-5 years.
Journeyman Plumber Status: After completing your plumbing apprentice training, most states in the US will require that you obtain a license, so that you could work independently. Here at Lloyd's Plumbing, our plumbers are fully licensed, and able to work for an employer. Earning a journeyman plumber status typically requires you to spend 2-10 years working as a journeyman.
Master Plumber Status: In order to obtain a master plumber status, you will need to pass your state's exam and acquire your plumber title and valid certification.
Get the RESPECT & CAREER you deserve
Lloyd's Plumbing is looking forward to finding quality people who are willing to make a difference to the community and provide outstanding services to Ventura and Los Angeles County. We prefer dedication and honesty more than any experience at all, because if you qualify with these two things, then we are willing to provide Paid training to make you compatible and professional in the field.
When you are part of Lloyd's Plumbing, you can make real money along with building your career skills and doing the work which resonates with your career. We are willing to provide you with all the required infrastructure and tools you need to excel in your job and provide quality service to the customers.
APPLY TODAY!
Apply today and be a part of a better community working with Lloyd's Plumbing, we are looking forward to working with you and hire you so you can make a difference in the city and start your career.
Rave Reviews from Happy Customers
- Kapur K.

- William F.

- M K.

- Daurio K.

- Dawn N.