Plumbers in Camarillo, CA
​Camarillo Residential & Commercial Plumbing Services
​​​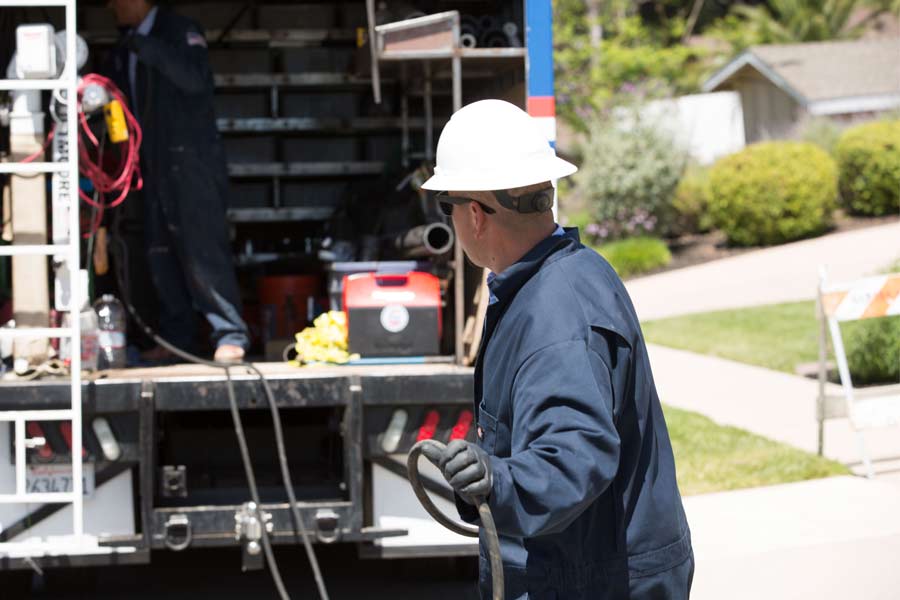 Blocked plumbing lines can create a hurdle in getting on with your routine chores and cleaning rituals. When you notice a plumbing problem that is out of control, you require the help of a plumbing expert. We at Lloyd's Plumbing are professional plumbers in Camarillo, CA who can help you sort out your plumbing problems. No plumbing job is either too big or too small for us to handle. Whether you are having problems with a clogged drain, or are interested in a kitchen or bathroom remodel, we got you covered. Take a look at what our customers have to say and see why we are Camarillo's most trusted team of plumbers!
There are many businesses out there that offer plumbing services, but we are best at what we do because we know how much hard work goes into building a loyal customer base. Here are reasons why you should choose Lloyd's plumbing as your leading Camarillo plumber.
Why Choose Lloyd's Plumbing?
Up-front pricing with no hidden charges or overtime fees
Licensed, bonded, and insured by the State of California
Family owned and operated - we value customer relations
Over 50 years of experience spanning three generations
Contact us online or give us a call now to schedule an appointment for plumbing repair in Camarillo.
Camarillo Plumbing Services We Offer
We provide the following residential and commercial Camarillo plumbing services:
Leak Detection & Repair: Whether small or significant, your Camarillo plumber will detect and repair the leaks in your plumbing before they create a more substantial problem.
Sewer Camera Inspection & Locating: Does your sewer keep getting blocked, or leak again and again? Don't worry! We'll send a Camarillo plumbing expert to your place to conduct a camera inspection and find the source of the problem and repair it.
Drain Cleaning & Rooter Services: Our highly-trained Camarillo drain cleaning experts are always available to help you with a blocked drain. Drain cleaning & repair is available - call us now!
Kitchen & Bathroom Remodeling: We offer professional kitchen & bathroom remodeling solutions to enhance the function of your space.
Trenchless Sewer/Water Line Repair & Replacement: Having a leak or blockage in the plumbing lines is one thing, but needing to dig up your property to find the leakage makes everything worse. With Lloyd's Plumbing, you don't have to worry about that - we offer minimally-invasive trenchless technology to solve the issue!
Water Heater Installation & Repair: We have a range of water heaters and provide their installation as well as repairs. Whether you want a regular inspection or need to have a water heater replaced or repaired, we make sure you get a hassle-free experience.
Tankless Water Heater Installation & Repair: Tankless water heaters have become exceedingly popular and almost every household has one now. We not only offer installation of new tankless water heaters, but we also provide repair services!
Sump Pump Installation, Maintenance & Repair: A sump pump system that's continuously in operation can begin to overheat and break down. Most issues come with continually running sump pump systems. Our trained plumbing experts can identify and solve sump pump issues of all kinds. We offer sump pump installation, maintenance & repair services in Ventura County and Los Angeles County.
Gas Line Installation & Repair Services: We are PHCC certified and have a skilled workforce that can carry out gas line installation and repair services safely and efficiently.
Drain Cleaning in Camarillo
A clogged drain is so much more than an inconvenience - it could be a symptom of a larger issue with your plumbing that needs prompt attention. If you're looking for a local Camarillo drain cleaning company that can respond quickly to your home or business, Lloyd's Plumbing is the top-reviewed team to trust. Using the latest technology, including drain cameras and hydro jetters, we can quickly identify the source of your drain woes and implement the best solution for your situation.
Give us a call if you're experiencing any of the following drain issues:
Clogged kitchen sink drain
Clogged tub or shower drain
Recurring drain backups or clogs
Drain smells bad
Sewage odors
Standing water
Slow-moving drains
Strange sounds coming from your drains
Problem with drain flies
Overflowing toilets
Multiple clogged drains
Benefits of Drain Cleaning
Professional drain cleaning services come with a number of great benefits. If you notice a problem with your home's or business's drains, we highly encourage you to contact a drain professional as soon as possible to get the situation inspected and properly taken care of.
Benefits of professional drain cleaning services include the following:
May completely eliminates clogs and slow drains
Gets rid of and prevents unpleasant odors
Saves you money from frequent repairs and costly replacements
Increases the lifespan of your drains
Puts an end to noisy pipes
Eliminates mold and prevents the growth of bacteria in your drain pipes
Stops and prevents overflowing drains
Suggested Reading:
Our friendly team is standing by to take your call! (805) 495-8766.
Rave Reviews from Happy Customers
- Kapur K.

- William F.

- M K.

- Daurio K.

- Dawn N.