Calabasas Plumber
Calabasas Plumbers & Drain Cleaning Experts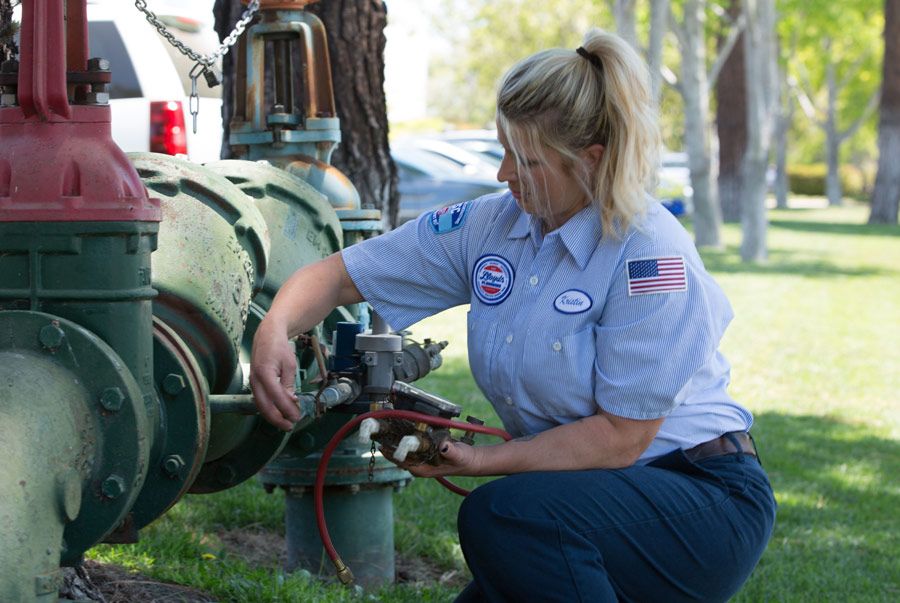 Whether you live in Calabasas or anywhere in Southern California, you need water every day to perform a wide variety of tasks. Our sinks, showers, toilets, and even fountains are an integral part of our building and structures. For both residential and commercial purposes, there is a need for proper sewerage lining and plumbing, so that the people in those buildings can remain safe and clean. Lloyd's Plumbing provides drain cleaning, water heaters, gas line, plumbing & rooter services. We are dedicated to providing professional plumbing and sewer line cleaning service in Calabasas, CA.
If you are looking for a professional plumber in Calabasas, CA, or the surrounding area, you can count on our team of professionals to provide you with nothing but the best. Take a look at our client reviews and see why we are Calabasas' most trusted plumbers!
Contact us or call us at (805) 495-8766 for residential or commercial plumbing services in Calabasas today!
Our Plumbing Services in Calabasas
There are a lot of plumbing repair and maintenance companies in and around Calabasas that say they can competently and reliably maintain, clean, service, and rebuild your residential plumbing & commercial plumbing systems. But the truth is, very few of them can do all of these professionally, reliably, and safely like Lloyd's Plumbing has been doing for over fifty years.
Our plumbing services in Calabasas include the following:
Tank & Tankless Water Heater Services
Water Heater Installation
Water Heater Repair
Water Heater Maintenance
Water Heater Replacement
Gas Line Installation
Gas Line Repair
Gas Line Maintenance
Gas Leak Repair
Leak Detection Services
Leak Detection Repair
Slab Leak Detection
Slab Leak Repair
Kitchen Remodeling
Bathroom Remodeling
Garbage Disposal Installation
Garbage Disposal Repair
Garbage Disposal Replacement
For those in Calabasas, you can find a professional plumbing service company at a very reasonable rate. Lloyd's Plumbing is a licensed and insured plumbing and repair service. Lloyd's Plumbing is a family-owned business that has been providing excellent service to our customers for over 50 years. Our plumbing staff provides maintenance and plumbing services for homes, condos, schools, municipal agencies, and all types of commercial buildings. At Lloyd's plumbing in Calabasas, we offer commercial as well as residential plumbing services. Our professional workers will reach you as soon as possible to save you from all plumbing problems and issues. Contact us to learn more about what we can do to make your home or business a better place for you today!
Residential & Commercial Plumbing Services
Lloyd's Plumbing is a company with many in-house professional plumbers with the right expertise and skills. We have been professional plumbing services for over 50 years now in Calabasas and other adjoining areas. Lloyd's highly professional, vigilant, and hardworking plumbers are always available at Calabasas. You can call us for our professional plumbing services. This means that no matter at what time you had some plumbing disaster at your place, we will reach you in no time to help you. Our plumbers at Lloyd's offer a wide range of services to our residential as well as commercial customers.
Our commercial plumbing services include the following, and more:
Backflow testing and certification
Property management
Plumbing Installation in Calabasas, CA
At Calabasas, our plumbers work very professionally to install Water Heaters, Tankless Water Heaters, Hybrid Water Heaters. These all are installed in residential and commercial buildings.
The water heaters installed by Lloyd's in Calabasas are warranted and energy-efficient water heaters. Our professional workers will arrive at your home or office, on time and fully prepared to complete the required plumbing. They are experts at removing your old water heater and replace it with the new, safe, more efficient one. We also ensure that the water heater being installed is up to the mark and passes the safety parameters of the building in Calabasas. Our plumbers will also provide you with instructions on the temperature settings and proper usage of the water heater being installed.
Gas Line Installations and Garbage Disposals Installations are also professional services we offer at Lloyd's Plumbing. For all these installations you need a professional plumber so that you get the right fittings and maximum energy usage.
Plumbing Repair in Calabasas
Lloyd plumbers also offer plumbing repairs in Calabasas. Whether it is your toilet repair task, sewer line repair, kitchen, or lawn, our professional plumbers are just a call away. The plumbing system at your house is not just a way to track water in the pipes. It is also a system that prevents your pipes and drainage system from getting stuck. It creates a barrier against the bacteria and prevents your family from getting sick. A leaking sink or blocked drainage might not look like a big problem but it can cause serious damage to your house. The most commonly reported problems are blocked drainage and burst pipes. If you do not have a professional plumber who can detect from where the pipe has been damaged it can cause damage to the walls of your house. Plumbing problems do not occur by seeing day or night. They can occur anywhere and anytime they have to occur.
A single broken pipe or tap can cause significant inconvenience for everyone living at the house and the whole routine can be disrupted.
Plumbing Maintenance in Calabasas
We do not only offer installations and repair services but we also keep a close eye on what needs to be maintained. Our team can return during scheduled inspections once they have installed something at your house to see how it is working and what kind of maintenance it needs.
Our team will try its best to discuss openly with you any problems they may see and what options are available to resolve them. Once our team installs the water heater, we regularly come and visit you in Calabasas for water heater maintenance.
Our Drain Cleaning & Rooter Services:
Our drain cleaning and rooter services in Calabasas include the following, and more:
Drain Cleaning
Drain Cleaning Installation
Drain Cleaning Repair
Video Line Plumbing & Rooter
Clog Locating & Inspection
Rooter Services
Sump Pump Repair
Sump Pump Installation
Sump Pump Replacement
Trenchless Pipe Repair
Trenchless Sewer Line Replacement
Backflow Testing Repair
Backflow Tester Certification
Irrigation Plumbing
Irrigation Pipe Repair
Calabasas Hydro Jet Drain Cleaner
Whole House Re-Piping Services
Camera inspection
At Lloyds, we take care of everything you have at home and treat your home respectfully.

Calabasas, CA Backflow Maintenance

When there is a reversal of unwanted water from a possible source of contamination to the clean water supply, it can cause severe health problems. Proper plumbing systems have valves, springs, and internal seals that prevent this from happening.

At Lloyd's, we have backflow testing equipment and our professional plumbers can prevent backflow so that these issues can be addressed.

Testing Sewer Maintenance

At Lloyd's, we install, repair, and maintain sewer lines. We have the latest equipment and knowledge to reach the root cause of why the damage to the pipe happened and thus the right equipment to treat that damage. When needed we can expertly replace your sewer lines through several options.

Gas Line Maintenance

Never try to repair the gas line by yourself. Whenever you feel there is leakage in the gas line, call your plumber and he will detect where the leakage is.

Drain Cleaning Services

Giving comfort to our residential clients is always the top priority of Lloyd's. Thus, we offer drain cleaning services for the kitchen and bathroom. These services are efficient and very affordable. If your tub or sink is not draining as fast as it used to be then it must have been clogged. We are happy to unclog your clogged drain. Our plumbers will come and inspect the problem. They will unclog your kitchen and bathroom drain. Using different professional plumbing techniques at your home will open clogged drains.

Sewer Drain Rooter Cleaning

Rooter service is also called snaking the drain. It is the most popular way to clear a drain in Calabasas While our professional plumbers work day and night to serve you, we also use a wide variety of latest equipment and methods for sewer drain cleaning. For example, we use high-definition colored video cameras are used to inspect the drain lines. Video line inspections help to locate water lines, corrosion, and blockages, leaking joints, offset joints and broken or damaged sewerage pipes.

Toilet Repair & Installation in Calabasas

A clogged toilet is one of the most frustrating things one can ever imagine. A toilet that won't flush can give you a sign that something is seriously wrong with either the drain or sewerage. Clogged toilets are one of the most common requests that Lloyd's Plumbing. At Lloyd's, we are not surprised to hear another complaint, which is a running toilet. If your toilet is running it is quite possible that its flapper valve is not working properly or there is another form of leak. A leaking toilet can add hundreds of dollars to your yearly water bill. This must be stopped quickly to conserve water in Calabasas. If you have an old toilet that has the manufacture date before 2014, we at Lloyd's Plumbing can replace it with a brand new toilet, which wastes less water in the flush but is more efficient than other older toilets.

Calabasas Slab Leak Repair

Sometimes you can easily detect a slab leak because the water is coming straight out of the slab. At other times slab leaks go undetected for a long time because they do not display any water leaking. To treat this problem, plumbers usually try considering re-piping the area… We at Lloyd's provide a full range of services for the Calabasas area. If you detect there is a slab leak at your house, you can give us a call and our highly competitive workers will reach you quickly to inspect the area and repair the issue.

Water Heater Services in Calabasas, CA

Your water heater is turned on, and yet you are surprised to have a cold-water bath check your water heater for any leaks or a malfunctioning heater element. For Calabasas, we provide a special opportunity and offer to reinstall, repair, and maintain water heaters. Our plumbers work well with tank, tankless and hybrid heaters. Before you call us, try to find your water heater model and serial number so that we can give you the best possible solution for water heater problems. If you can't find it, not to worry. Our plumbers can discern this upon arrival.

Gas Line Plumbing in Calabasas

Gas line plumbing in Calabasas is done very diligently. If you ever suspect a gas leakage from any area, it is important to address the gas line plumbing issues as soon as possible. Do not try to deal with them on your own. Gas lines can cause damage on a very large scale and their results can be irreversible. It not only risks the lives of people but also the entire structure of the house.

Call Lloyd's Plumbing Team Today!

At Lloyd's we want to make you feel comfortable and at ease. Besides plumbing and other services, we provide In-Floor Radiant Heating Systems, Energy Management Controls, Home Automation, Power Generators, Commercial sales, Engineering, Design, and Installation.

Lloyd's at Calabasas aims to provide you with the best quality products, their installation, repair, and maintenance. Our professional team of plumbers is always ready to deal with any issue at your home and provide you comfort and peace of mind in your home.
Schedule a Service with Lloyd's Plumbing Today! Call: (805) 495-8766.
Suggested Reading:
Rave Reviews from Happy Customers
- Kapur K.

- William F.

- M K.

- Daurio K.

- Dawn N.