Plumber in Ojai
Professional Plumbing Services in Ojai
Are you looking for professional plumbing services in Ojai, CA? Lloyd's Plumbing is always available for all of your plumbing needs. As a trusted local company in business for more than 50 years, we're proud to provide Ojai residents with the best quality plumbing services around. We are a family business and know how to maintain our reputation by offering on-demand services at competitive rates. When pipes burst or drains clog, we offer the immediate service and support you need to get the issue resolved as soon as possible.
Our team works efficiently, providing clear communication from the get-go to make the plumbing repair process completely seamless for your home, business, or office. If you need an experienced and trusted plumber in Ojai or the surrounding area, you can count on our team of experts to take care of it. Check out our reviews to see what people are saying about our company!

Looking for a reliable plumber in Ojai? Call us at (805) 495-8766 to schedule a service appointment.
Our Residential Plumbing Services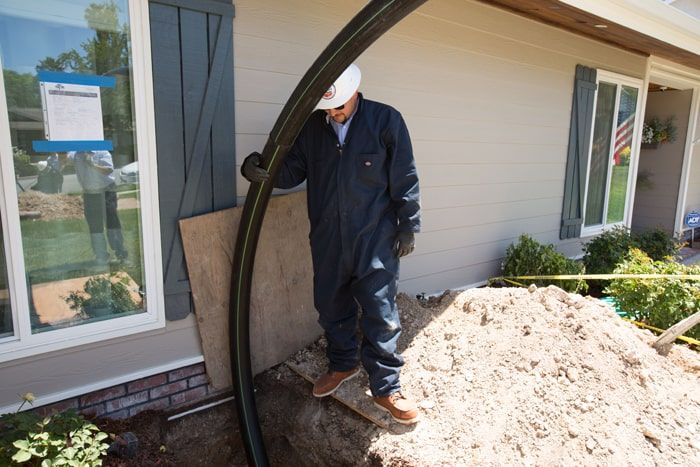 ​Our trained Ojai plumbers can handle all of your plumbing needs. We are skilled and equipped to take care of plumbing installation, repair, or replacement projects of all sizes. From new tankless water heater installations and repairs to complete whole-house repiping jobs. Adding on a new bathroom or remodeling a kitchen? We can reroute your plumbing pipes and install all of your fixtures, including sinks, showers, tubs, toilets, and faucets. Improper plumbing installation can have disastrous consequences, so make sure you entrust your next service to seasoned professionals.
​Our wide range of residential plumbing services include the following:
Sewer & drain cleaning
Hydro jetting
Sewer & drain camera inspection
Trenchless sewer replacement
Plumbing
Garbage disposal repair
Leak detection & repair
Slab leak detection & repair
Backflow testing
Gas line installation & repair
Irrigation system repair
Pipe bursting
Kitchen & bathroom remodeling
Sump pump repair & installation
Water heater repair & installation
Tankless water heater installation
Our Commercial Plumbing Services
If you are looking for commercial plumbing services, at At Lloyd's Plumbing our licensed and professional technicians can help. No plumbing problem is either too big or too small for us to handle. Let us take care of all your business's necessary plumbing, and save yourself from any further troubles.
Our commercial plumbing services include the following:
Plumbing for property management
Backflow testing and certification
We can install most backflow prevention devices for the following commercial locations, and more:
Hospitals
Restaurants
Apartments
Condominiums
All public or industrial areas
Drain Cleaning and Rooter Services in Ojai
From drain cleaning to sewer line maintenance, our Ojai plumbers can handle everything related to your drainage system. With years of experience, our team of specialists knows how to optimize drain performance and help prevent further drain issues in the future. We offer fast response times to minimize your wait and get your residential or commercial property back in action in no time.
Tips to help you avoid drain clogs:
Don't pour grease or cooking oils down your kitchen sink. Instead, wait for them to cool, pour them into an empty carton or jar, and dispose of them in the garbage.
Be careful what you allow into your garbage disposal. Never wash things like coffee grounds, vegetable peels, eggshells, chicken bones, or starchy foods like pasta or rice down your kitchen sink drain.
Place a hair trap over your tub and shower drains. You'll be amazed at how such a simple and inexpensive fix can help you prevent one of the most common causes of bathroom drain backups.
When in doubt, don't flush it! Toilets are made to dispose of human waste and toilet paper - nothing more. Never flush paper towels, hair, sanitary products, or anything else down the toilet.
Water Leak Detection & Repair
Is your kitchen's faucet is dripping? Have you noticed a puddle under your sink or a strange wet patch of drywall? Has your water heater sprung a leak? From small isolated leaks to more difficult hidden slab leaks that can damage your structure, we're the team to trust to find the issue quickly. Our advanced leak detection technology helps us accurately locate plumbing leaks on your property so that we can provide you with an optimal solution.
Water Heater Repair & Replacement
Our Ojai water heater repair experts serve both residential and commercial spaces. If your water heater isn't reliably providing you with hot water, or if you're ready to upgrade to a more energy-efficient water heater, give us a call to request an estimate. We service and replace both conventional tank-style water heaters and on-demand tankless water heaters. Not sure which one is right for your property? We can help you select your replacement water heater based on your hot water needs, budget, and the features you are most interested in.
Gas Line Repair & Installation
Natural gas leaks could be life-threatening, so let our HPPC-Certified workers fix the leakage problems. Call us for gas line repair in Ojai. Remember: if you smell gas on your property, immediately get to fresh air and call SoCalGas, then contact Lloyd's Plumbing for the repairs you need.
Looking to install a new gas line for a gas barbecue, gas stove, gas fireplace, or a gas-powered appliance like a water heater or furnace? We can help with that, too. Call today for an estimate!
Whole-House Repiping
Does your home still have outdated, substandard galvanized steel pipes? It's time to remove them and get copper pipes for better plumbing performance, increased home value, and peace of mind. Financing is available for your convenience!
Signs it's time to repipe your home include:
Discolored or foul-smelling water
Low water pressure
Knocking/hammering pipes
Frequent pipe leaks
Visible corrosion on the pipes
Call Lloyd's Plumbing today to schedule an appointment at (805) 495-8766.
Suggested Reading:
Rave Reviews from Happy Customers
- Kapur K.

- William F.

- M K.

- Daurio K.

- Dawn N.