Whole-House Water Filtration Trusted Plumbing & Rooter Professionals
Thousand Oaks Whole-House Water Filtration
Providing You with Cleaner, Healthier Water
Is there anything more important than taking care of your home and providing your family with a healthy living environment? We don't think so either. At Lloyd's Plumbing, we are in the business of making sure your water is as clean and fresh as can be. As a leader in the plumbing industry, we have access to the highest performing equipment on the market, which enables us to set your home up with the best water filtration systems available. Turn to us for whole-house water filtration services in Thousand Oaks, and start enjoying healthier water right away.
Give us a call today at (805) 495-8766 to get started.
What Do Whole-House Water Filters Do?
Your water is treated with chemicals and contains pollutants that make their way into your home when you shower, bathe, wash your hands, run the dishwasher, or wash your laundry. These pollutants can negatively impact everything from your skin to your dishes to your plumbing system to your laundry and more. Whole-house water filters are designed to filter out harsh chemicals and other pollutants in your water to provide you with a fresher, safer water supply.
Whole-house water filters are capable of filtering out the following contaminants commonly found in water supplies:
Dirt
Sand
Sediment
Chlorine
Fluoride
Pesticides
Iron
Sulfur
Manganese
Calcium
Magnesium
Bacteria
Algae
Clay
Rust
Chloramines
Parasites
Fungi
Viruses
Whether your water is too hard, has a chlorine smell, or contains too much sediment, Lloyd's Plumbing has a solution. Our Thousand Oaks whole-house water filtration specialists are here to assess the condition of your home's water, explain your options to you, and select and install the perfect system for you and your family.
Signs You Need a Whole House Water Filter
Most homeowners assume that their tap water is clean and healthy, but that is often not the case.
If you experience any of the following, you need to call our Thousand Oaks whole-house water filtration professionals: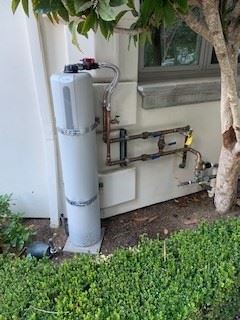 Your water tastes or smells funky
Your home was built before 1986 (the year lead was banned from plumbing pipes)
You use a well
Your clothes fade quickly in the washing machine
Your hair and skin are always dry after the shower
Your water is murky or cloudy
Your plumbing fixtures are covered in limescale
Your dishes are covered in water stains
You have frequent plumbing problems
Benefits of a Whole-House Water Filter
Trying to decide if you're ready to install a whole-house water filter?
Some of the key benefits of whole-house water filters include:
Cleaner, healthier water delivered from every water source in the house (faucets, showerheads, etc.)
Better tasting and smelling water
Extended plumbing system lifespan
Protected plumbing pipes, fixtures, and appliances
Softer, brighter, longer-lasting clothing
Healthier skin and hair
No more need for drinking water filters
Schedule Service Today!
Why wait? A whole-house water filter is just what you need to elevate the safety and comfort of your home. Lloyd's Plumbing has access to a variety of high-performing systems and is here to help you determine which one is best for your home.
Since opening our doors in 1965, Lloyd's Plumbing has been committed to offering premium-quality plumbing services to the members of our community. With us on your side, you can expect nothing but the highest level of care, sound solutions, and lasting results. Each of our plumbers is fully licensed, bonded, and insured, and always goes the extra mile to get the job done right the first time.
Call (805) 495-8766 to schedule whole-home water filtration services in Thousand Oaks.
Rave Reviews from Happy Customers
"We would certainly use Lloyd's Plumbing without hesitation in the future."

We would certainly use Lloyd's Plumbing without hesitation in the future.

- Kapur K.
Trusted Plumbing Professionals
Clean & Uniformed

Our team wears shoe covers, uniforms, and leave your home neat and clean.

Fair Prices

We provide upfront fair and honest pricing.

Five Star Rated

We are fully trained to handle any job you've got, call us now for service!

Family Owned Since 1965

Fully licensed, bonded, and insured professional team.

Certification

Our Plumbing Technicians are certified and highly experienced professionals.