24-Hour Plumber in Simi Valley, CA
Quick & Reliable Plumbing Fixes in Ventura County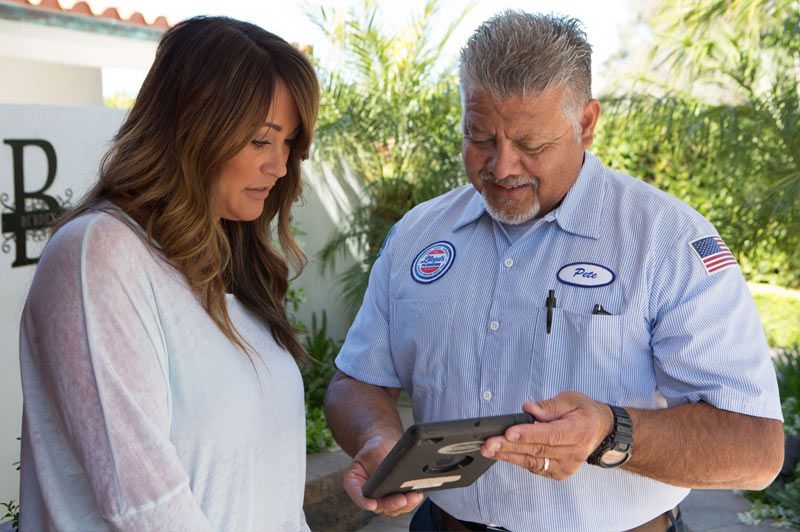 Finding quality plumbing services when something goes wrong with your pipes shouldn't be a hassle in Simi Valley, CA. You've already got enough on your plate to deal with when you discover a leak in your pipes, have a faulty faucet, are bamboozled by a blocked drain, or have any other issue, both large or small.
At Lloyd's Plumbing, we offer a comprehensive range of plumbing services designed to tackle whatever you're dealing with quickly and effectively. We believe in providing services that exceed your expectations and would meet the standards we demand from those who would serve our own home, and that constantly pushes us to be at our best and strive for your total and complete satisfaction.
Take a look at our reviews page and see why our clients trust us.
Book your appointment with Lloyd's Plumbing by calling (805) 495-8766 today.
Simi Valley Plumbing Services We Offer You
Here at Lloyd's Plumbing, we believe that one of the most important parts of being the most dependable name in Simi Valley plumbing services is being ready to handle whatever you need. Nobody wants to have to make a dozen phone calls to find a plumber who can handle their issue and be trusted to do it right. We take care of everything under one roof, and we have the tools and equipment necessary to handle everything from the most routine issues to the biggest and most complex jobs.
Our plumbers have the training and tools to help with all issues, including:
Water heater issues
Water quality problems
Water pressure issues
Pipe leaks & repairs
Repiping services
Clogs & drain repair
Gas line issues
Sump pump systems
Backflow testing
Garbage disposal services
Sewer line issues
Part of what makes our team at Lloyd's Plumbing so versatile is that we're always out on the cutting edge of technology and training. Every one of our technicians regularly undergoes professional training to improve their skills and make them better at what they do. Plus, each one is fully licensed, bonded, and insured for your complete peace of mind. Combine that with a wide selection of well-maintained and modern plumbing tools and they have everything they need to give your home the best services you'll find anywhere in the Los Angeles area.
Why Should I Hire A Plumber?
If plumbing issues are giving you trouble, it's a wise choice to hire a plumber. Plumbing professionals are highly trained and experienced in taking care of a variety of plumbing issues. Our plumbers can handle any plumbing task, no matter how small or large. They can assess thproblems accurately and determine the most efficient and cost-effective solution. Plumbing companies are your one-stop-shop for any plumbing issue because they have the tools and resources needed to complete the job right. With the right plumbers, you'll be sure that the job is done safely and effectively - no more DIY repairs!
Finally, you don't have to worry about frighteningly high bills as plumbing companies offer competitive rates. From repair and installation to preventative maintenance, hiring a plumbing company is the best way to ensure that all of your plumbing needs are taken care of quickly, efficiently, and affordably. So don't wait till it's too late - contact our plumbers in Simi Valley today!
Drain Cleaning in Simi Valley, CA
Your home or business requires high-quality plumbing services that can ensure that your piping and drainage systems are working correctly. Did you know that a blocked drain is one of the most common plumbing problems? Regular drain cleaning is essential for preventing costly damages and important for your drains to be functioning at optimal levels.
No drain problem is either too big or too small for our team of experts to handle. Whether you need help with a bathroom drain clog or a kitchen drain, we got you covered. We have years of combined experience and will go above and beyond to ensure that the problem is properly taken care of the first time around.
Our drain cleaning services include the following:
Sewer drains
Kitchen sink drains
Bathroom sink drains
Shower and tub drains
Toilet drains
Laundry drains
If you are looking for professional drain cleaning services that you can trust, then look no further. Contact us online today to learn more about what we can do to make your home or business a better place for you today!
Water Heater Repair in Simi Valley, CA
Are you looking for plumbing professionals that you can trust to take care of a water heater problem? Our licensed plumbers have the tools and experience necessary to get your water heater back up and running in no time!
Signs you need water heater repair:
You keep running out of hot water quickly
You have no hot water
Your hot water is not warm enough, or is lukewarm
Your water has an unpleasant metallic smell
Your water is cloudy
Your water is rusty-looking (has a brown tint to it)
Your water heater is leaking
Your water heater is making strange sounds
There are fluctuations in your water temperature
You have reduced hot water pressure
It's been over a year since you last got your water heater checked
Your water heater system is more than 10 years old
If you are facing any of the problems above, we strongly suggest that you contact a water heater professional as soon as you can, to get your water heater inspected and properly taken care of. Leaving a water heater issue unnoticed can lead to further damages and can leave you having to pay for costly repairs or replacements.
Types of water heaters we can install:
Tankless water heater
Conventional tank water heater
Heat pump water heater
Solar-powered water heater
Condensing water heater
Why Hire Lloyd's Plumbing in Simi Valley?
Our plumbers in Simi Valley have the experience, training, and tools to make sure all your plumbing needs are met with the finest services you'll find anywhere. We've proudly served our community since we first opened back in 1965, and today we're thrilled to have worked on thousands of homes throughout the area. Throughout our years in the industry, we've learned a thing or two about what it takes to be the name customers turn to—honesty and dependability are just the start. We're always upfront and transparent about what we find when we inspect your plumbing problem—we never sugarcoat the bad news because we believe you deserve to know the truth. You can count on us for all of your plumbing services in Simi Valley and beyond!
Contact Lloyd's Plumbing to schedule a Simi Valley plumbing service appointment now.
Related Blog Articles
Rave Reviews from Happy Customers
- Kapur K.

- William F.

- M K.

- Daurio K.

- Dawn N.