At Lloyd's Plumbing, we know it's important for you to clarify some things in order to fully understand the service(s) you need before officially hiring out a plumbing technician. Sometimes people hire plumbers and end up unsatisfied with the quality of their services and/or the pricing. The only solution to avoid misunderstandings with your local plumbers is by asking questions.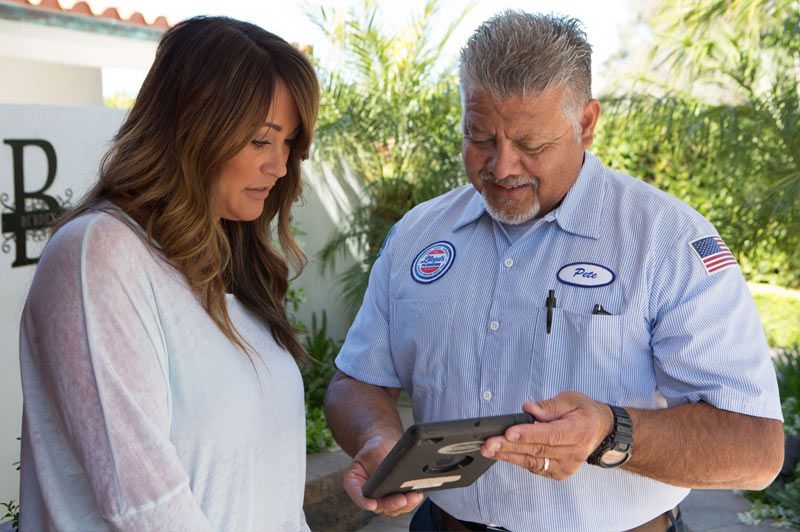 To start off, make sure you have an initial meeting or consultation with every plumbing candidate you consider hiring, focusing on the most important questions pertaining to your particular plumbing issue. Some common concerns when it comes to plumbing services include:
Pricing
Billing Model (Hourly vs. Project)
Meeting timelines
Qualifications
Compliance
Overall Availability
When hiring a plumber, you should ensure that he/she is qualified to do the job. You should also confirm that the technician is accredited by a recognized institution or certification and has experience in the field. From the very start, be sure to ask questions concerning pricing and pricing models in order to avoid rushing into hiring the plumber with a cheap quote without considering the possibility of hidden costs. Some plumbers may present you a cheap quote up front just to hit you with double the fees along the way. Make sure you have clarified the pricing model, so you are fully convinced that the plumber will offer the best plumbing services at the most reasonable cost. To ensure the best experience when looking for local plumbing services, here are 8 specific questions you ought to ask before hiring a technician.
8 Important Questions to Ask Your Plumber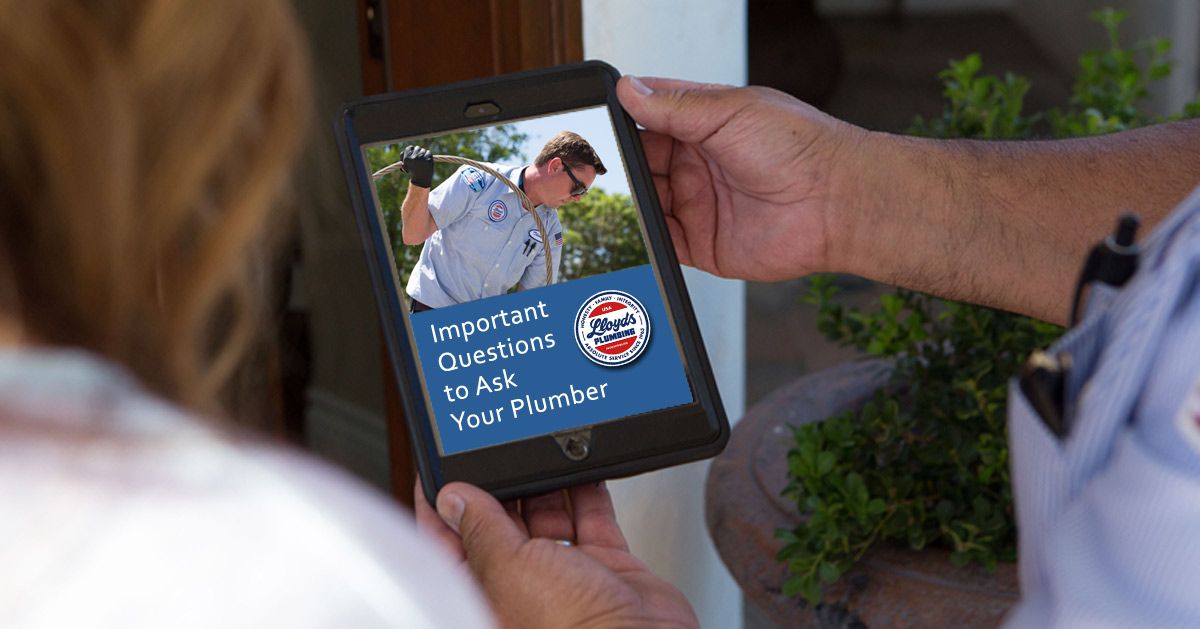 No. 1: Are You A Licensed Plumber?
Most people assume that all plumbers are licensed. The truth of the matter is that there are many plumbers who claim to be licensed but truly are not. If possible, you should ask a plumber to provide proof of their license. Most states issue documentation to verify that a plumber is licensed. In some states, it is a legal requirement for any licensed plumber to hang their certificate on the wall, visible to any and all customers who enter the main office. Hiring a plumber who is not licensed has obvious disadvantages–you may receive poor services, or the project may not pass inspection. Hiring a plumber without a license may also get you in trouble with local authorities in the case of an accident on the jobsite (a.k.a. your home or property). It is your duty to verify the credibility of your plumber for service you can trust.
No. 2: What are Your Credentials / Do You Have Any References?
When hiring a plumber, hire the one with the best qualifications possible. In most states, the law requires that a plumber attains a certain level of training such as a plumbing course at a community college for 2 years. Other states require that the graduate must undertake at least an additional 1-year apprenticeship under a licensed plumber before receiving a license to operate independently. To ensure quality and compliance, ask about the plumbers' academic and credential requirements. Avoid being scammed with fake credentials by always making sure you check a plumber's references. Most people request for academic credentials, but very few bother to check the references and verify them. Take the extra few minutes to call the references your plumber provides, so you can rest assured that your money will be spent on a job well done.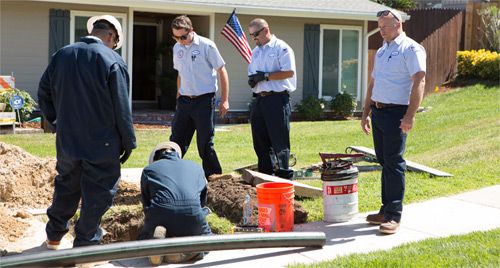 No. 3: Do You Offer Warranties Or Guarantees On Your Plumbing Services?
Before hiring a plumbing technician, ask questions that will guarantee the quality of the service. One key question to ask is whether the plumber offers a warranty or not. A plumbing service provider that offers a warranty is far more trustworthy than a company that does not. Although it is not an absolute must for a good plumber to offer a warranty, some of the best in the industry offer warranties that range up to years in some cases.
No. 4: What Are Your Plumbing Fees?
Before you finally decide on a plumber, make sure you understand your budget. Although the pricing should not be the main factor to consider when hiring a plumber, it is a key concern for those in need of plumbing services. Do not just opt for cheap plumpers on the market nor expensive ones. Lower prices may be an indication of poor services. However, higher prices do not necessarily mean good services. You ought to strike a balance between quality and affordability. Through phone calls and interviews, find out which plumber offers the best services and is affordable for your particular budget. In some cases, you may be forced to dig a bit deeper in your pocket. When it comes to plumbing services, it is better to compromise on pricing than compromise on quality.
No. 5: When Is Payment Require?
Most people make a mistake when it comes to choosing the right pricing model. Different plumbers offer different packages and pricing models. Before you rush into paying, try to understand what the quote means. You should ask several pricing questions including when the first payment is supposed to be made, and whether payment is due in full upon receipt. Once you get a quote, clarify whether or not it is all-inclusive of the entire project cost. Never agree to sign a contract in which you have to pay the entire amount up front. A good plumber may accept a portion of the amount and take the rest at the end of the project. If possible, hire a plumber who is willing to do the work and take payment later. It is possible to find a plumber who is willing to take the payment after the job. However, keep in mind that you must provide the amount for the needed materials to get the job done.
No. 6: Who Will Be Completing The Plumbing Work?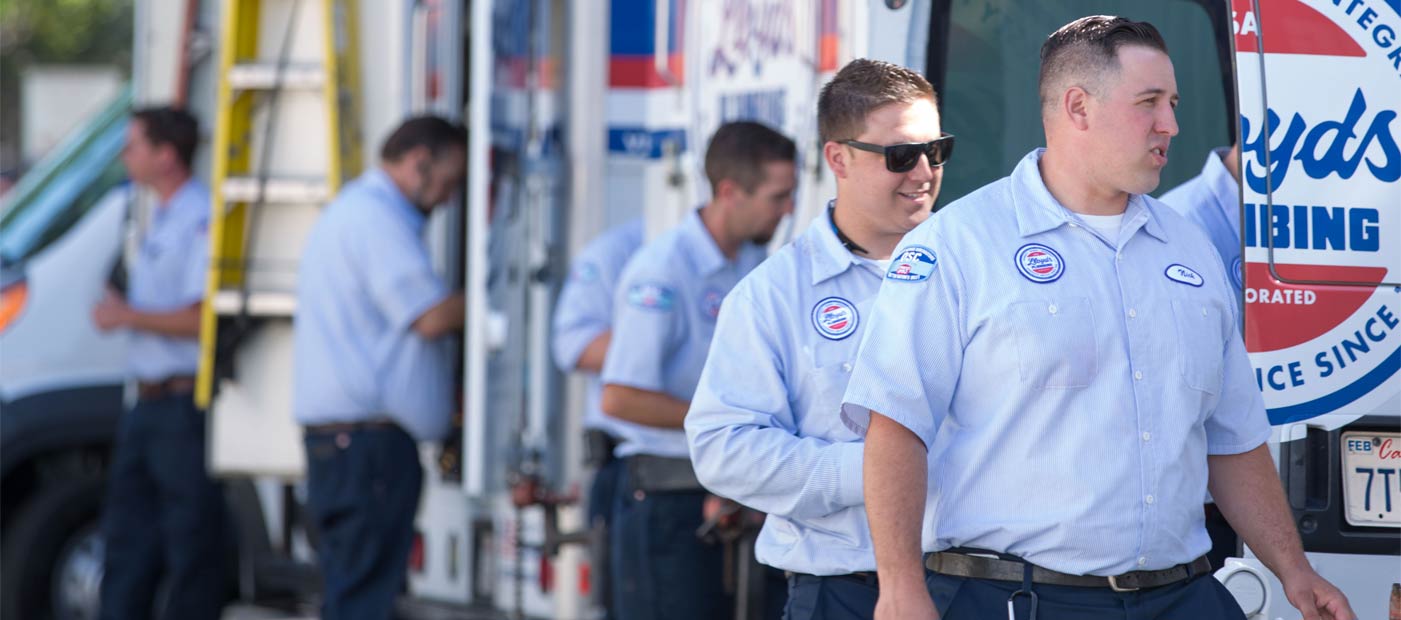 Most people do not bother to ask this question because they assume the initial contracted plumbing technician will finish the job. In some cases, the plumber might not be able to finish the job in one day. Some plumbers may also subcontract the job to others. Before you award the contract, ensure that the candidate you offer the job to is ready to see it through completion. Do not offer the job to plumbers who only do part of the job and leave the rest for another contractor. It is important to have one contractor working on the project so that you know who to talk to about any further or related issues. Also, if you allow two or more contractors to do the same job, you won't have a valid claim if any mistakes occur. The contract between you and the plumber should clearly stipulate the work to be done before the release of full payment.
No. 7: Do You Clean-Up After The Plumbing Work Is Completed?
Another important aspect of completing a plumbing job is cleaning. Many plumbers complete a job thoroughly to completion but do not bother with clean-up or waste disposal. A good plumber will promise and follow-through on cleaning and disposing of any waste. When comparing the costs, keep in mind that cleaning and waste disposal might increase the cost of your service. Choose a plumber that gives you the most convenient option.
Choosing A Premier Southern California Plumbing Service
Lloyd's Plumbing is the embodiment of a quality plumbing service provider. We offer services that are tailored to your specific needs while paying keen attention to customer service and a job well done. For over 40 years, we have been the leading plumbing service provider in Agoura Hills, Bell Canyon, Calabasas, Camarillo, Hidden Valley, Oxnard, Moorpark, Oak Park, Ojai, Newbury Park, Simi Valley, West Hills, Ventura, and Westlake Village.
We stand apart from other plumbing service providers due to our focus on quality and friendly service while maintaining a professional outlook when serving our clients. Our priority is to ensure that all customers are served well and on time.
Besides our dedication to quality and quick service delivery, we provide cost-effective plumbing solutions for homeowners, public buildings, commercial property, and more. Throughout the years, we have formed a special relationship with the clients we serve all over Ventura and Los Angeles County. We are also willing to work with your needs and budget to offer flexible pricing packages.
If you need a plumber that is reliable, trustworthy and fully experienced, contact our team today. At Lloyd's Plumbing, we will help you get your job done professionally and efficiently. Do you have any additional questions? Speak directly with one of our staff today by calling (805) 495-8766!